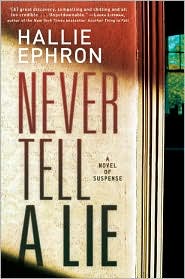 Rating: 3.5 out of 5 stars
This book was one of my EarlyReviewer books. A date on the spine says it was to be published in January of this year though I received my uncorrected proof in February. I happened to come across it in a bookstore on Saturday. It sat in it's hardcover edition on a twenty percent off sale for new hardcover fiction and a part of me was very excited to have already read it.
Never Tell a Lie
is a book of mystery. A happy couple expecting their first child decide to have a garage sale to clear their attic of the belongings of their beautiful Victorian home's previous owner. They've been together since the days that they were in high school and early that morning one of their first visitors is someone they had gone to school with.
Neither of them had seen Melinda, expecting her own first child, in years. Ivy was never close to Melinda and is eager to be free of the visiting woman who feels they were actually very close. Ivy is relieved when her husband, David, distracts Melinda by taking her on a tour of their grand house. She is tired and feeling every month of her pregnancy. Ivy does not notice that she never sees Melinda leaving their home.
In a matter of days David and Ivy are contacted by the police. Melinda is missing. The last place she was known to be was at David and Ivy's home for their garage sale. The single question of where Melinda is leads to a great deal of more mysteries.
I don't ordinarily read mystery books anymore though once read a great deal of it so it was nice to enjoy a mystery once more. I found it to be a good book and this book has interested me in reading more books in it's genre once more. I would read another of Ephron's books when she has more to offer readers.