Believe it or not, the last few entries were all still for February. I was neglecting my blog. However, with this post I am all caught up. This is a true March read. Now to only post that ever late book pile after this! Well, onto the book...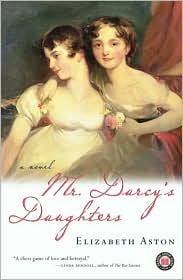 Rating: 4.5 out of 5 stars
One of the first things I have to say about this book is that I can't believe I let it sit in my TBR pile so long. I first read Jane Austen's
Pride and Prejudice
, for which Aston's
Mr. Darcy's Daughters
is based on, in a women's literature class in the spring of 2003. I was an immediate fan of it and went on to reread it perhaps four times since then. It was during that same literature class that I discovered another of my favorites, Charlotte Bronte's
Jane Eyre
as well. Not a person who was on the internet much at all in those days, it was only with Jasper Fforde's hit Thursday Next series that I discovered those lovely books about other books. I soon became a fan of books about classic literature that wasn't actually classic literature itself. This book is one that stands to impress and does not fail to keep me excited about the rest of the series.
Mr. Darcy's Daughters
was an absolutely wonderful and most enjoyable book. I can't say that enough. A part of me before reading it wondered what the damage would be to the memory of characters from Austen's work. However, there wasn't a reason for such worries. Elizabeth Aston did not ruin Elizabeth nor Mr. Darcy for me one single bit. It's not that I've really come across characters destroyed for me with books about classic literature, but rather some books just do not capture those classic characters well. With this book, there was rarely such chance. We in fact do not see Mr. or Mrs. Darcy at all. I was a little sad over that matter to begin with, but there are a great many books taking over where
Pride and Prejudice
leaves off and I know I have a great deal of books in my very TBR pile that do so.
How does a book about
Pride and Prejudice
survive without it's star characters? It provides new ones, of course, who I assure to you are just as interesting as the very Bennet family itself had been. The daughters of the Darcy's, every one of them, are in London. I can hear Lady Catherine to Lizzy now. "What, and all at court?!" Well, that I will not answer! Second born to the Darcy's, Camilla is the heroine of
Mr. Darcy's Daughters
, a young woman much like her mother. If this is beginning to sound like a repeat of
Pride and Prejudice
with simply new characters do not fear. I will insist it has it's differences.
This outstanding book which brings you back to
Pride and Prejudice
, reintroduces you to some familiar characters, and has a story in a slightly similar fashion as it's model, is yet a story of it's own. I liked the characters and understand perhaps not every future book in the series will take place from Camilla's point of view. However I am greatly looking forward to reading the rest of the series. I'm so happy I read this book and am no longer missing it from never having read it. I gave it 4.5 stars, withholding from five stars because they could have used a smidgen more creativity. Happily enough I received book two in the mail since finishing
Mr. Darcy's Daughters
last Sunday and will start to read it soon. If only I could read every book I want to read 'soon'
soon
. "So many books, so little time." (Unknown source.)