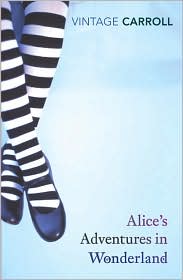 There are many books I missed as a child that others generally read enough times to sometimes even memorize. It wasn't that my mother never read to me because I remember reading in the rocking chair with her many times. It was my favorite thing because it was when I had alone time with her in a single parent family of four people in those days. I just for some reason never got to some of them. I was a poor reader until my teens. Before anyone misjudges and thinks it was a call for attention, I had a partial learning disability that I didn't overcome until I was older. Two of the stories absent from my childhood were Lewis Carrol's
Alice's Adventures in Wonderland
and
Through the Looking Glass
.
I spent the first half of my childhood with four other kids in the house, all of them younger. Our favorite things to do involved watching movies again and again before playing and acting them out in the backyard. We'd have them memorized. This is one way I came to know a good deal of the Alice stories without ever having read them until I read the first of the two this month. It was from the movie that I came to recognise and fall in love with the Cat Formerly Known as Cheshire in Jasper Fforde's Thursday Next series, a much-loved and favorite series of mine.
I first heard about Fforde's books while in high school but never got around to reading them until college. This was about six months after I first read Charlotte Bronte's
Jane Eyre
in a women's literature class, a book which strongly ties to the first in the Thursday Next series,
The Eyre Affair
. About that time was when I really and truly began to fall in love with books, and after getting further along in the Thursday Next series the thing I thought most amazing would be to have a stuffed Cheshire Cat toy. I wanted to keep one amongst my own small pile of books to mimic the Great Library in Jasper Fforde's created Book World. As of Christmas last week I now have one, and quite a good deal more books since then that it can actually be considered a small library for him to sit amongst. I was very excited and happy for the gift.
The Thursday Next series pretty much taught me all that I didn't learn from Disney's created Alice film up until now. It's usual for one to watch a book made into a movie and say, "What did they do with this or that scene?" For some reason I had it in my head that there was a good deal more in Disney's film than what I've read in Carrol's
Alice's Adventures in Wonderland
. I dare say I need to re-watch the film I once knew by heart. Speaking of hearts, the deck of cards is hilarious. Alice is a peculiar sort of girl in a time not quite our own any longer. I'm happy to be reading it at last. My book is a two-in-one and I plan to begin the second story very soon. After that I may at long last read the much curious
Looking Glass Wars
by Frank Beddor.