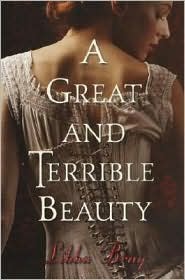 I wasn't sure what to expect when I began reading Libba Bray's
A Great and Terrible Beauty
. I knew it was a Young Adult Victorian and Gothic novel. Reading another book that I am now, I ashamingly wonder and feel that I should already know if Victorian and Gothic tales go hand in hand. I would most definitely like to learn more about different times in literature and now want to explore them more.
We first met Gemma Doyle when she has the sort of characteristics one would not want others to see in them. She is a sixteen-year-old girl who is rude and sometimes obnoxious. It is something no one wants to admit to being themselves so because Bray begins the first book in this series with such characteristics for Gemma I was surprised but soon saw where the change would come.
When Gemma is sent to a finishing school for reasons I will not give away, visions of experiences such as within
The Little Princess
appeared to my mind. Perhaps it was because like the main character in that book, Gemma is also from India. Both girls have lost a parent and there is a touch of seeing what others do not as well as something magical to both their stories. Both characters do not have a completely shared experience in their different books and schools, however. While similarities exist they are also very different stories.
Ever since an event at the start of the book, Gemma has been seeing visions that change the course of her life at Spence, the finishing school in England she is taken to. She forms what would have been an impossible small group of friends. Gemma learns there is a secret hiding about the fire that burned a wing of the school down which connects to there not being a class photograph for the class of 1871. As she enters her visions and leads others in them as well, Gemma learns there is a great connection between her visions, a forgotten diary the visions lead her to, and the fire that killed at least one student from the class of 1871.
There are many more secrets to this book but I wish to not give them away. I really enjoyed this book and am very eager to read book two,
Rebel Angels
. There are three books in this series to date with none expected after the third. The paperback for book three is not due out until May 12, 2009. Random House has a very nice
site
for the Gemma Doyle trilogy but beware - spoilers lurk everywhere.
54 / 70 books. 77% done!